Protect the Environment and Recycle With Our Electronic Waste Disposal Service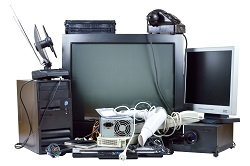 If you have acquired a number of outdated electronics over the years, chances are there will come a time when you have to get rid of them. Doing so in an easy and safe manner is extremely important. For this reason you can consider calling 020 3743 9508 to book our white goods clearance service. At Rubbishes Ltd, we are well experienced in the field as we have been hired for this task numerous times throughout the years. Not only are our services extremely reliable, but also very eco-friendly, with great focus on recycling. This is one of the reasons why you should book our white goods removal services. Here are some other benefits you should also consider:
Fast and express same day service
Adequate staff who will take all your details and requirements on 020 3743 9508
Eco-friendly attitude and care for the environment
Perfect logistics


E-waste Removal in a Nutshell


The main thing about our service is that we will come at your address on a date of your choosing and clear any unwanted electronic junk from your home. You needn't worry about the work associated with this, as we can take care of it all. Rubbishes Ltd offers a team of professional white goods clearance experts, who can come when you want and work to collect, load and transport your electronics for recycling or another form of disposal. Rather than wondering how to free up space in your home from all of the outdated appliances and other electronics, you can just call us and have us deal with this task in a quick and professional manner. We are an authorized electronic waste disposal service provider, which you can always rely on to do a thorough job.


Hire professionals for the task of e-waste clearance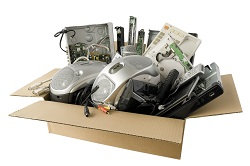 Our experts can easily tackle any number of electronics that you want to clear from your home. Every employee of our staff knows how to handle heavy TVs and fridges, plus they are skilled enough to carry them and load them without any risk for the device. It doesn't matter what number of items you want gone from your home – our professionals can come and show you what a great white goods removal service we offer. We are proficient and skilled to handle such task with ease, which is why you should always consider our efficient services.


What Type of Electronics Can We Collect?


You can book our electronic waste disposal service for taking care of big and small electronic devices alike. Normally people hire us when it comes to taking care of that huge and unwieldy fridge or cooking range that is hard to manoeuvre and move squeeze through doors. Additionally, you can call us to take care of TV sets, ovens and heavy washing machines. Carrying and handling those electronics can be extremely bothersome, and you will definitely need help. Instead of asking for favours from your neighbours, dial 020 3743 9508 and bring in the professionals.


Pricing and Payment for E-waste Removal


With other services you may expect a flat fee, which you pay regardless of how little junk you need to clear from your home. This is not the case with our company; however, as the price we charge is based entirely on the amount we collect. You pay no more and no less than what you need to clear from your home. This allows for fair and cheap pricing, that all of our clients appreciate and can always rely on. You can learn more about prices and how we charge if you talk to an expert of our team today. You will even receive a free estimate to give you an idea of how much you have to pay.